Check out these two salad recipes…DELICIOUS!!!!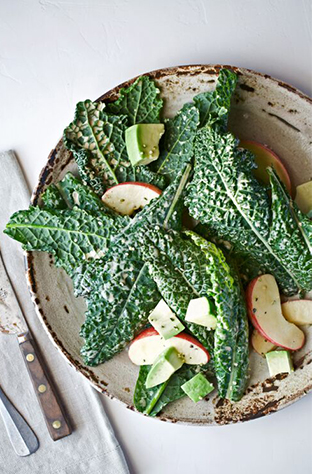 AVOCADO-KALE CAESAR SALAD
serves 4
1 bunch lacinato kale, tough ribs removed, leaves torn
½ Fuji apple, halved and thinly sliced into half-moons
1 avocado, cut into 1-inch cubes
2 tablespoons hulled hemp seeds
LIGHT CAESAR DRESSING
2 tablespoons olive oil mayonnaise
1 tablespoon Dijon mustard
2 tablespoons fresh lemon juice
¼ teaspoon freshly ground black pepper
¼ teaspoon sea salt
1 tablespoon Worcestershire sauce
Prep the vegetables for the salad. In a large bowl, whisk together the mayonnaise, mustard, lemon juice, pepper, sea salt, and Worcestershire sauce. Add the chopped kale and Fuji apple slices to the bowl and toss well to coat with the vinaigrette. Plate the salad and top with the avocado cubes and hulled hemp seeds.


LEMON-SOY EDAMAME BARLEY BOWL
Serves 4
4 cups cooked pearl or hulled barley*
4½ cups water
1½ cups shelled, organic edamame
2 cups wild baby arugula
2 blocks savory, baked, organic tofu (firm or extra-firm), cut into 3⁄4-inch cubes
1 ripe avocado, halved and thinly sliced
LEMON TAMARI DRESSING
4 tablespoons low-sodium soy sauce
2 tablespoons toasted sesame oil
Juice of 1 lemon
1 tablespoon dried oregano
1 teaspoon finely grated lemon zest (optional)
Combine the barley and water in a medium saucepan and bring to a boil. Reduce the heat to low and simmer for 40 to 50 minutes until all of the liquid is absorbed. Remove from heat and allow to cool slightly.
In a large bowl, whisk together the soy sauce, sesame oil, lemon juice, oregano, and lemon zest until well combined. Add the slightly cooled barley to the bowl and toss to coat.
Add the shelled edamame and arugula and toss gently to combine. To serve, divide the barley salad among four bowls and top with tofu and avocado slices.
* Hulled barley is barley in its most natural state, which means it needs to cook for quite a bit longer than pearl barley — 1 to 1½ hours longer. Pearl barley has the hull removed and is therefore less tough. Adjust your cooking time based on the variety you choose.